Peter G. Economou
If you are looking for someone to champion your problems, I am that person.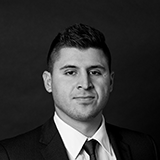 Contact: P /612.604.6442E /[email protected]
Education
University of Minnesota Law School, J.D., 2019
Managing Editor, Minnesota Law Review Vol. 103
Best Oralist Award, First Year Legal Writing Program
Dean's List
Director, Environmental and Energy Law Clinic
Research Assistant to Professor David Weissbrodt
University of Minnesota, B.A., Political Science, 2016
Bar Admissions
Minnesota, 2019
U.S. District Court, D. Minn., 2019
U.S. District Court, D. Colo., 2020
My Approach
The reason I went into law was to have an opportunity to champion other people's problems. Ever since I was young, I was taught to stand up and help others when it was evident that help was needed, and I have embodied those teachings by developing a passion for treating others' problems as my own. I put clients' disputes on a pedestal no matter their background or walk of life. My family came from humble beginnings – my grandparents emigrated from Greece during and after World War II – and built their lives through small, family-owned businesses and with very little resources. I was taught to respect others, and also that success is what you build yourself; we make our own opportunities, and cannot take chances for granted. Litigation, for me, is about working as hard as I can to solve the problems before me, and using my instinct, creativity, and intelligence to get the job done. With these skills, I am able to cater to the needs of individuals and clients who bear a variety of problems and disputes, and relish every opportunity to do so. In my practice, I approach my work with businesses as if they were my grandparents' businesses – with tenacity, dedication, and knowledge that often times you only have one shot at creating the winning case.
Outside of work, I love all Minnesota sports, especially the Vikings, and seek out anything to do with camping and being outdoors. I also love to cook, experiment with new recipes, and enjoy spending time with family and friends, which often takes place around the dinner table.
Practice Areas
Practicing Construction & Real Estate Litigation
My Experience
I work extensively with real estate developers on litigation related to shareholder disputes, tax credit financing, and year-15 exit disputes.
Practicing Business & Commercial Litigation
My Experience
I represent clients in numerous aspects of corporate and commercial litigation, including building the foundation of case strategies through legal research, and preparing motions, stipulations and memoranda for use at a variety of stages in the litigation timeline. I have specific focus and experience working on construction and tax credit litigation disputes.
Also experienced in
Shareholder Disputes
Year 15 LIHTC Disputes