Megan M. Miller
Every day, I get to help ignite ideas and drive dreams.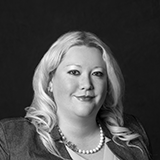 Contact: P /612.604.6394E /[email protected]
Education
Mitchell Hamline School of Law, J.D., cum laude, 2021
Cybaris, Intellectual Property Law Review, Executive Editor 2020-2021
Cybaris, Intellectual Property Law Review, Staff Editor 2019-2020
Hennepin County Bar Association, Student Liaison 2020-2021
Research Assistant for Professor Sharon Sandeen, Spring 2021
Dean's List, Fall 2018 & Spring 2019
University of Minnesota Duluth, B.A., Criminology, 2016
Bar Admissions
Minnesota, 2021
My Approach
I love working with my clients because they're excited about their future when they come to me – they have an idea for a new product or service, are starting a new brand, or are trying to grow their existing business. I get to advocate for the most creative and innovative people who have a vast diversity of ideas, and help them take those ideas from the back of a napkin to a product out in the marketplace.
I appreciate that my work touches a wide range of industries – not all lawyers are so lucky. In a single day, I can move from working on a trademark for a cancer drug, to protection for a new software, to packaging design for a children's toy. The time I spend helping my clients is also time spent making all of our lives better because these products and services enhance so many people's daily activities.
When I'm not at the office, I enjoy walking around the lakes to a Peloton class or checking out the newest brunch and Bloody Mary hot spots (one might say I'm a brunch connoisseur). I have also served as the Corporate Secretary on the Board of my HOA for many years and am serving as the Co-Membership Engagement Director of the Hennepin County Bar Association New Lawyers Section.
MY PATH TO THE LAW
I didn't have the typical path to becoming a lawyer, and I am proud of the experience I bring and my unique background. Before attending law school – or even earning my undergraduate degree – I worked for many years as an IP paralegal. I finished my undergraduate degree and then attended law school while working full time at Winthrop. I appreciate having the perspective that I do, not only of the value of hard work, but also of all the different aspects that go into the final product of obtaining a trademark or patent – it's so much more than just the law. Whether it's understanding a client's business goals, or knowing a client's entire portfolio and how they're prosecuting in particular jurisdictions, or their enforcement preferences, there are so many considerations that have an impact on how I help each client protect their IP.
Practice Areas
Practicing Intellectual Property
My Experience
I have been prosecuting patents, trademarks, and copyrights in the U.S. and worldwide since 2007, having worked at both large and small boutique IP firms as well as a legal services corporation before joining the Winthrop team. My diverse work history has provided me with the opportunity to work with an extensive range of clients from FTSE 100 companies to international and national universities, start-up ventures, and solo inventors. This experience has given me an invaluable understanding of a broad range of different client needs and preferences.
I know how important it is that clients thoroughly understand the requirements and flow of the legal process, so I emphasize clear and concise communication. Additionally, I assist with maintaining and developing internal policies and procedures as well as educating clients and firm members on country law updates and foreign filing strategy.
I value the diversity and tangibility of my job in seeing IP that I have helped to protect out in commerce.
Also experienced in
Trademark & Brand Protection
Patent Law & Prosecution
Data Privacy & Security
Associations & Memberships
American Bar Association
Minnesota State Bar Association
Hennepin County Bar Association
New Lawyers Section Co-Membership Engagement Director, 2021, 2022
Minnesota Intellectual Property Law Association
American Intellectual Property Law Association
International Trademark Association