Jordan J. Hogness
It's not just moving numbers around; tax credit work creates a tangible benefit to society.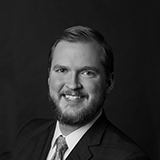 Contact: P /612.604.6450E /[email protected]
Education
University of Minnesota Law School, J.D., magna cum laude, 2015
Managing Editor, Minnesota Law Review
North Dakota State University, B.S., Political Science, summa cum laude, 2012
Bar Admissions
Minnesota, 2015
My Approach
It can be easy to concentrate on the minutiae of a project—document lists, projections—and lose sight of the broader picture. Ultimately, tax credit deals are projects that we as a society have collectively decided deliver a social good and should be incentivized. The projects I enjoy working on most are those where I work closely with the client to collaborate on creating buildings and housing where people need them most, as a benefit to our community.
Outside of work, I enjoy reading, trying new restaurants, and tending my indoor herb garden.
Practice Areas
Practicing Tax Credit Financing & Syndication
My Experience
I represent clients in dealing with the tax implications of real estate projects, and in utilizing tax credits and other sources of financing to ensure completion. Prior to joining the firm, I worked in international tax with PwC, analyzing and advising on the tax impact of acquisitions and other transactions.
Representative Matters
Represented non-profit developer on $20M+ low-income housing tax credit (LIHTC) senior housing project.
Represented tax credit investors, and developers, in federal and state historic and other tax credit transactions in Minnesota, Texas, Louisiana, North Carolina, South Carolina, Missouri, Indiana, New York, and multiple other states.
Assisted tax credit investors in closing solar energy investments in California, Hawaii, Minnesota, and other states.
Aided local housing authorities in entering developer partnerships in Colorado LIHTC transactions.
Assisted Fortune 100 company in realigning its global sourcing structure in a tax-efficient manner, taking into account both U.S. federal income and foreign tax implications.
Worked with large private multinationals to mitigate the impact of the section 965 "toll charge" in advance of the enactment of U.S. tax reform.
Helped clients, including Fortune 10 company, navigate the impact of tax reform's new section 951A global intangible low-taxed income provisions on their international structure.
Aided in adjusting international structures to take into enacted and anticipated foreign tax reforms, including changes stemming from CJEU decisions and the OECD BEPS initiative.
Qualified client facility for Minnesota qualified data center exemption, providing a long-term sales and use tax exemption and multi million dollar sales and use tax refund.
Also experienced in
Real Estate Development & Transactions