Gerald H. Fornwald
Let's identify and cure obstacles before they become problems.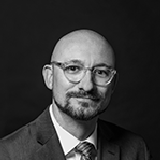 Contact: P /612.604.6584E /[email protected]
Education
University of St. Thomas School of Law, J.D., cum laude, 2005
Senior Editor, University of St. Thomas Law Journal
Creighton University College of Business, B.A., summa cum laude, Phi Kappa Beta, 2001
Bar Admissions
Minnesota, 2005
U.S. District Court, D. Minn., 2005
U.S. District Court, W.D. Mich., 2014
My Approach
The connecting theme through my different areas of practice is helping people and businesses get through very difficult situations, and identifying or quelling problems – that they might not have even been aware of – before they bubble up and burst.
In the healthcare regulatory and compliance area, I help providers keep their licenses – their livelihoods – intact. With so many regulations, governing bodies, and complicated processes, these are often fraught and stressful times. Healthcare is strictly regulated because it is so vitally important to the communities we serve. We need to be sure we're providing it in the correct way and following the proper path – and I get real energy from helping my clients do that.
Shareholder disputes are nicknamed "corporate divorces" for a reason – these matters can be brutal, contentious disagreements for clients, often with friends, close family, or others with whom they have been doing business for years. Since graduating from law school, I have constantly been involved in one or more shareholder disputes, which means that I have seen any and all issues that may come up – and the last thing anyone wants in a dispute of that nature is a surprise.
In both cases, because I have firsthand experience seeing how difficult these matters can be, I fervently advise clients on how to protect themselves to avoid issues in the future.
Practice Areas
Practicing Shareholder Disputes
My Experience
I represent clients in ownership disputes involving closely-held companies. I have represented minority owners, 50/50 owners, controlling owners, and even the companies involved in such disputes. These have spanned numerous industries, including construction, real estate, restaurants, manufacturing, and health care, and have included enforcement of the reasonable expectations of owners (including expectation of ongoing employment and voice in management), appointment of neutral appraisers, actions for court-sanctioned buy-outs, negotiation and enforcement of buy-sell agreements, enforcement of contractual and fiduciary obligations owed between owners, and enforcement of statutory protections under the Minnesota Business Corporation Act.
Representative Matters
John William Cadotte, et al. v. Spotted Hawk Development, LLC, et al. (Elbert County District Court, Colorado) – Represented four individual plaintiffs asserting fraud, breach of fiduciary duty, and statutory claims arising out of their assertion of a 61.5% membership interest in a company holding tens-of-thousands of acres of oil leases in the Bakken Formation of North Dakota.
Café Imports Fulfillment, LLC v. Coffee Finance Management, Inc. et al. (Hennepin County District Court) – Represented closely held limited liability company in action to enforce buy-sell agreement against member who refused to sell membership interest and successfully obtained summary judgment in favor of company, ordering buy-out on terms sought by company.
Estate of Charles E. Hohn v. United Scientific, Inc. et al. (Ramsey County District Court, Minnesota) – Represented estate and widow of deceased 50/50 shareholder in action seeking enforcement of buy-sell agreement and statutory shareholder rights.
Premier Marine, Inc. v. Hallberg, et al. (Washington County District Court, Minnesota) – Represented boat manufacturing company in successfully obtaining injunctive relief against opposing parties, and overseeing implementation of a special investigation which resulted in the dismissal of all claims alleged against the company and its majority shareholders.
Assist and advise members, shareholders, and closely-held companies regarding litigation, transactional, and merger solutions for dealing with ownership disputes.
Numerous representations of companies, members, and shareholders in closely held and family-owned businesses in a variety of industries (including health care, food and beverage, construction, technology, IT staffing, and manufacturing industries) with respect to negotiating voluntary buy-outs and/or enforcing rights in buy-sell agreements, equity agreements, phantom stock agreements, member control agreements, and other contracts.
Practicing Health Law
My Experience
I represent a variety of healthcare providers in sub-specialties ranging from radiology to dentistry to the mental health field. I counsel health care practitioners and providers regarding avenues for risk mitigation in their health care operations. I also represent health care providers and practice groups in civil litigation and disputes spanning a wide array of topics, including the use and dissemination of patient health information, contract disputes, litigation with state and federal governing bodies regarding billing and compliance matters, and internal employment and ownership disputes, among other things. My familiarity with state and federal regulations governing health care providers, and in particular privacy regulations such as HIPAA and 42 C.F.R. part 2, enables me to counsel clients regarding the issues at hand, while also helping them avoid mistakes that could lead to future disputes. I also provide privacy compliance training and advice to health care providers, including drug and alcohol treatment centers, in order to assist them in navigating the complexities and ever-changing landscape of handling patient health information.
Representative Matters
Represent health care providers in investigations and civil litigation brought by or on behalf of the United States Department of Health and Human Services, the Minnesota Department of Human Services, the Minnesota Attorney General, the United States Attorneys' Office, qui tam litigants, and private parties in a variety of contexts, including shareholder disputes, employment actions, and alleged violations of the False Claims Act, the Minnesota Health Records Act, and various state statutes including the Adult Rehabilitative Mental Health Services (ARMHS) program, the Children's Therapeutic Services and Support (CTSS) program, and others.
Represent and advise health care providers, practice groups, and individual practitioners with respect to ownership, membership, and employment issues and related litigation. For example, in Kapoor v. Medical Scanning Consultants, P.A. and Center for Diagnostic Imaging, Inc. (Hennepin County District Court, Minnesota), represented  a radiology practice group and a medical imaging provider and obtained a full victory on summary judgment, defeating all claims brought by a radiologist seeking millions of dollars in damages for alleged violations of the Minnesota Whistleblower statute, breach of an employment contract, defamation, and related claims.
Counsel, advise, and educate drug and alcohol treatment centers and other health care providers regarding privacy compliance issues, including HIPAA, 42 C.F.R. part 2, the Minnesota Health Records Act, and other state and federal obligations regarding the handling, use, and disclosure of patient health information.
Advise and assist health care providers in the creation of best practices, policies, procedures, and compliance manuals.
Represent health care providers in conjunction with third-party information requests, subpoena responses, court orders, and administrative requests for the production of protected health information.
Practicing Regulatory & Government Relations
My Experience
I represent clients in a range of regulatory matters, including matters before professional licensing boards and in matters of regulatory compliance.
Representative Matters
Represent and advise one of the largest private security providers in the state of Minnesota in licensing investigation and application process involving the Board of Private Detectives and Protective Agents and the Board of Criminal Apprehension.
Represent various license holders in licensing disputes involving Minnesota Department of Human Services.
Also experienced in
Business & Commercial Litigation
Data Privacy & Security
Employment Litigation
Trusts & Estates Litigation and Dispute Resolution
Honors & Awards
Benchmark Litigation
40 & Under Hot List, 2018-2019
Under 40 Hot List, 2016-2017
Local Litigation Star, 2016-2021
Future Star, 2015
Minnesota Super Lawyers®
2013-2020
Rising Stars
Minnesota Super Lawyers®, 2012
2005 Excellence in Employment Law Award
Minnesota Bar Association, Labor and Employment Law Section
President
Phi Beta Kappa Honor Society
Associations & Memberships
Minnesota Bar Association
"Barrister's Breakfast"
Co-chair