David P. Pearson
Complex litigation demands rigorous thinking, creativity, attention to detail and plain hard work.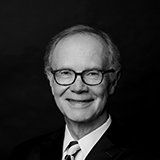 Contact: P /612.604.6692E /[email protected]
Education
Northwestern University Pritzker School of Law, J.D., 1976
Northwestern University, B.A., 1972
Bar Admissions
Minnesota, 1976
U.S. District Court, D. Minn., 1976
Minnesota Supreme Court, 1991
U.S. Supreme Court, 1998
U.S. Court of Appeals, Fed. Cir., 2004
U.S. Court of Appeals, 8th Cir., 1996
My Approach
I have been fortunate to represent clients in factually and legally complex lawsuits that pose a significant monetary or enterprise risk.  For example, I represent corporate management of public and private corporations in securities fraud and fiduciary duty claims, and insurance companies in a broad range of complex policy disputes. These cases often have layers of intertwined factual/legal issues, some of which are critical and dispositive, but many of which are noisy distractions. Success in this litigation arena requires a disciplined, rigorous strategy that will identify and frame the critical issues, and then drive the litigation process in a way that will prevail on those issues. I am practicing law because of the intellectual and emotional challenge these cases present, and because I truly enjoy my clients – people who need superior representation in a time of risk and challenge.
Outside the office, I love running, sailing, hunting waterfowl, fishing and hiking – anything that gets me outdoors, and I also enjoy reading biographies of great figures in history. I raise perennials that are good for pollinators, and I'm attempting (but struggling) to raise fruit trees.
A Groundbreaking Moment in My Career
A groundbreaking moment in my career occurred at my first court appearance to argue a simple motion. Fresh out of law school, I was confident that I knew what I was doing. I didn't. The motion pleadings had been filed incorrectly, and I was unprepared for the judge's questions. Looking over his spectacles, the veteran judge looked at me sternly, observing "they shouldn't have sent you down here today." I vowed that would never happen again. Preparation, preparation, and more preparation are the watch words of a successful lawyer. That, as well as learning and innovating. Learning and preparation never end.
Practice Areas
Practicing Securities Litigation
My Experience
I have been working in securities litigation for more than 25 years, defending public and private corporations and their directors and officers against claims of securities fraud, breach of fiduciary duty and other similar claims. My practice in this area also includes representation of public companies in SEC investigations, as well as representation of major broker-dealer firms and registered representatives in securities industry arbitration proceedings. I have tried numerous FINRA arbitrations involving claims of fraud, suitability, churning and violation of industry rules.
Representative Matters
Successfully represented the outside directors of Tile Shop in a securities fraud lawsuit alleging that the defendants purposely failed to disclose related party transactions which allowed the Company to purchase the inventory from China at artificially low prices, resulting in artificially inflated gross profit margins, false financial statements and inadequate risk disclosures. Plaintiffs brought claims under both the 33 Act and the 34 Act, alleging fraud in connection with the securities offerings and fraud on the market.  Beaver County Employees' Retirement Fund, et al. v. Tile Shop Holdings, Inc., et al., Case Number 14-cv-00786 (ADM/TNL) (Minn. May 23, 2014).
Representation of the former CEO of the Metris Companies, Inc., in In Re Metris Companies, Inc. Securities Litigation, 428 F.Supp.2d 1004 (D. Minn. 2006). This case involved a claim for several hundred million dollars in damages against Metris based on allegations that the company failed to disclose internal business problems which arose, in part, from a review and investigation by the Office of the Comptroller of the Currency. The class action complaint alleged that CEO and the company were aware that Metris would not meet its earnings per share projections because of changes imposed on the company's business operations by the OCC. It was alleged that the companies and its officers misled investors by making positive comments about the company and by failing to disclose negative information. This case also involved an investigation by the SEC and the OCC.
Representation of the former President and COO of NorthWestern Corporation, a South Dakota-based public utility, in In Re NorthWestern Corporation Securities Litigation. This case involves allegations that NorthWestern Corporation and our COO client failed to disclose problems about the company's internal computer system and associated problems with accounts receivables and accounts receivables aging. The complaint alleged that the company made misleading statements regarding earnings projections and failed to disclose, and indeed hid, negative information about serious problems in the operating results of and the business prospects for various subsidiaries of NorthWestern Corporation.  In Re NorthWestern Corporation Securities Litigation, 329 F.Supp.2d 1105 (D.SD 2004).
Representation of board members in Cohen v. [email protected], Inc., a class action securities fraud case involving alleged representations about an "imminent" IPO that induced owners of telecom companies to sell their businesses to [email protected] [email protected] bought a series of small telecom companies as part of a business rollup model.
Successful defense of the president of an investment adviser in an SEC action arising out of substantial losses in a $600,000,000 mutual fund that had invested heavily in derivative securities in In The Matter of Piper Capital Management, Inc., et al. After a nine week trial, our client was the only defendant who was exonerated from wrongdoing and liability.
Representation of officers and directors of a public company alleged to have failed to disclose potential risks of future business expansion which involved the legal significance of cautionary language in offering documents disseminated to the investing public.
Representation of officers/employees of Ceridian Corporation in an SEC investigation involving restatement of financial statements and alleged failure to follow accounting rules in connection with various transactions, thereby inflating earnings.
Awards
Local Litigation Star
Benchmark Litigation, 2015-2021
Minnesota Super Lawyers®
(formerly Minnesota Law & Politics)
Securities Litigation, 2000-2021
The Best Lawyers in America©
Commercial Litigation, 2007-2022
Practicing Coverage Litigation & Counseling
My Experience
I have represented insurers in a broad spectrum of coverage disputes, with a particular focus in those arising from professional liability, healthcare and fidelity policies, and have successfully tried coverage and policy interpretation cases. I have also defended insureds, including banks, securities broker-dealer firms, life insurance companies, financial services companies, insurance agencies and others, in a wide range of professional liability, employment and other litigation.
Representative Matters
Representation of National Union and Starr Excess in a complex coverage action brought by UnitedHealth Group, Inc. seeking insurance coverage for a $350 million class action settlement under the terms of a manuscripted professional liability policy. This case involved significant, precedent setting insurance coverage issues in the federal district court in Minnesota, including issues involving policy interpretation, allocation of settlement between insured and uninsured claims, the rights of the insured and the insurer under a claims made and reported policy, the relationship between the insurance binder and the insurance policy, interpretation issues in "follow form" policies among other issues. The litigation spanned eight years, extensive discovery, two trials and concluded with a victory for the Firm's clients in a decision issued by the 8th Circuit in October 2017. United Health Group Inc. v. Columbia Cas. Co., 941 F.Supp.2d 1029 (D. Minn. 2013) and UnitedHealth Group Inc. v. Columbia Cas. Co., 47 F.Supp.3d 863 (D. Minn. 2014). UnitedHealth Grp. Inc. v. Exec. Risk Specialty Ins. Co., 870 F.3d 856 (8th Cir. 2017).
Representation of National Union in a coverage action brought by 3M Company and four other carriers arising out of a crime policy issued by National Union. This case involved significant policy interpretation issues arising out of a complex set of facts in which 3M claimed it had loss money from the investment of retirement account funds in a Madoff-type Ponzi Scheme. This case was concluded successfully when the District Court and then the 8th Circuit ruled in favor of National Union's policy interpretation. 3M v. National Union, Case No. 4:14-cv-001058 (PJS/JSM) (Minn. 2014). 3M Co. v. Nat'l Union Fire Ins. Co. of Pittsburgh, PA, 858 F.3d 561 (8th Cir. 2017).
Awards
Local Litigation Star
Benchmark Litigation, 2015-2020
The Best Lawyers in America©
Commercial Litigation, 2007-2022
Insurance Law, 2021-2022
Litigation - Insurance, 2022
Practicing Employment Litigation
My Experience
I have over 25 years of experience in the employment law field. I have represented employers in almost every aspect of employment litigation, and have successfully defended clients in state and federal court jury trials and in arbitration proceedings. My experience includes representing defendants in class-action age discrimination lawsuits, representing employers in many different contexts and claims involving gender discrimination, including claims regarding equal pay, failure to promote, and numerous sexual harassment and hostile environment claims. I also have substantial experience representing employers in claims involving disability discrimination under both state and federal law.  My practice also includes Whistleblower claims, and I have represented numerous defendants in Whistleblower action, including in a recent precedent setting case interpreting a Minnesota Whistleblower Act. In addition, I have made numerous CLE presentations and have written and spoken extensively regarding employment law issues.
Also experienced in
Professional Liability
Director & Officer Liability
Honors & Awards
Local Litigation Star
Benchmark Litigation, 2015-2021
Minnesota Super Lawyers®
(formerly Minnesota Law & Politics)
Securities Litigation, 2000-2021
The Best Lawyers in America©
Commercial Litigation, 2007-2022
Insurance Law, 2021-2022
Litigation - Insurance, 2022
IP Star
Managing IP, 2014-2015
AV Preeminent
LexisNexis Martindale-Hubbell, Peer review ratings
Associations & Memberships
America Intellectual Property Law Association
American Bar Association
Minnesota State Bar Association
Governing Counsel of the Labor and Employment Law Section, 1997-1998
Defense Research Institute