John C. Holper
When I look at an issue, I don't necessarily see a fight, but an opportunity for resolution.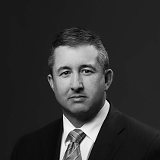 Contact: P /612.604.6542E /[email protected]
Education
Hamline University School of Law, J.D., 1992
Member, Hamline Law Review
Michigan State University, B.S., Political Science, 1989
Bar Admissions
Minnesota, 1992
U.S. District Court, D. Minn., 1992
U.S. District Court, D. Colo., 2002
U.S. District Court, D. N.D., 2014
My Approach
My clients typically come to me when a dispute has either started or about to start, to help them find an early resolution and a roadmap to a true business solution. I help them take the emotion out of the matter to find a resolution that makes economic sense, and be an advisor to find their best interest. Sometimes, that means going to court in a full-blown litigation, and other times, finding a negotiated middle ground, but in either case I intensely advocate for my client to meet their individual goals.
I also place a strong emphasis on advising my clients on matters on the front end, including reviewing contracts and vendor agreements, to save them time and money, and prevent them from needing to call me later with a problem. I try to look at everything from the perspective of the business, put myself in my clients' shoes, and find the solution that is best for the company.
Practice Areas
Practicing Construction & Real Estate Litigation
My Experience
I focus primarily in the areas of construction, and real estate litigation, representing owners and contractors on a range of matters including contracts, boundary disputes, easements, construction defects, insurance coverage, easements, eminent domain, condemnation, restrictive covenants, mechanic's liens, surety, and related banking, creditors' rights and remedies, and closely held corporate shareholder litigation. I counsel my clients on how best to pursue and/or resolve disputes in an economical and efficient manner, with a full understanding of their client business operations and goals.
Representative Matters
Representation of a locally famous restaurant in a lease dispute, in which our client attempted to exercise its contractually agreed-upon lease extension for space owned by the landlord, but the landlord refused, and instead began publicly announcing its plans to develop new retail and a 5-story apartment complex at the site. We prevailed on summary judgment for our client, with the court finding the landlord in breach of contract. The court granted our motion for partial summary judgment, and ordered that our client's lease be extended.
Olympic Pools, Inc. vs. Provence, LLC et. al. Successfully represented a multi-story apartment developer in recovering in excess of $2 million on substantial construction defect claims against general contractor, multiple subcontractors and design professionals.
Stonebridge Construction, Inc. vs. North American Specialty Insurance Company et. al. Successfully represented a general contractor in the pursuit of a performance and payment bond claim against surety and principal.
Department of Labor vs. Stonebridge Construction, Inc. Successfully represented a general contractor in defense of a United States Department of Labor prevailing wage and labor investigation.
Charles D. Nolan & Sons vs. Ross Contractors, Inc. Successfully represented a commercial property owner through trial in connection with a construction defect claim against a commercial roofing contractor. Client obtained a jury verdict in excess of $1 million.
Acceptance Insurance Company vs. Ross Contractors et. al. Successfully represented a commercial property owner seeking insurance coverage. Secured a trial verdict in favor of client that was upheld on appeal.
Arden Square, LLC vs. State Auto Insurance Company. Successfully represented a commercial property owner in connection with a declaratory judgment action seeking the establishment of insurance coverage for damages resulting from an unexpected roof collapse.
Engineering America Inc. vs. Poet Design & Construction. Successfully represented a general contractor in the prosecution of a mechanic's lien claim and defense of a counterclaim alleging various construction defects.
Langford Tool & Drill Co. vs. The 401 Group, LLC. Successfully represented a project developer in connection with a failed construction project and in the prosecution of a mortgage foreclosure action. Obtained summary judgment on behalf of the lender establishing the priority of its mortgage, authorizing the lender to foreclose its mortgage, and directing judgment in favor of the lender and against the borrower in an amount in excess of $5 million.
LSS Housing Watford City II, LLC vs. Norvanta, LLC et. al. Successfully represented a construction project developer and recovered substantial damages from a general contractor who abandoned a multi-million dollar construction project, and defended subcontractor payment claims.
Walmart Stores, Inc. (various matters). Ongoing representation of Walmart Stores, Inc. and affiliates on mechanic's lien, construction defect and payment disputes.
Routinely represent numerous general contractors, subcontractors and suppliers in connection with the prosecution, defense and resolution of mechanic's lien, construction defect, payment and insurance coverage disputes.
Routinely represent residential contractors in connection with the defense of Minnesota Department of Labor and Industry investigations and administrative proceedings.
Routinely represent owners, developers, contractors and subcontractors in connection with the drafting and negotiation of construction contracts.
 Related Representative Matters
Rice v. Brock. Successfully represented a residential seller in connection with a dispute with the purchaser over the contractual and statutory termination of a residential purchase agreement.
Loring Manor Apartments, LLC v Johnson. Successfully represented an apartment building owner in a contested eviction action.
Paul Development Company v North American Banking Company. Successfully represented a lender in connection with the sale of bank-owned real property and defense of a claimed right of first refusal by adjoining land owner.  Summary judgment in favor of bank awarded.
Walmart Stores, Inc. (various matters). Routinely represent Wal-Mart Stores, Inc. and affiliates in connection with condemnation proceedings
SuperValu et. al. v Walmart Stores, Inc. Successfully represented Wal-Mart Stores, Inc. in defense of claims by a shopping center owner and tenant seeking to enforce restrictive use covenants contained in a Reciprocal Easement Agreement.
Frogner Land Company vs. Lori Misenor. Successfully represented an individual purchaser of tax-forfeited property in connection with a challenge by a prior land owner regarding the enforceability of the purchase, and the applicability and scope of the tax forfeiture statute.
Cassidy Turley vs. Phillips Plastics. Successfully represented a broker in connection with the collection of commission.
Chicago Title Insurance Company (various matters). Represented a title insurance company in various matters including, but not limited to, lien priority actions, defense of mechanic's liens, quiet title actions, easement enforcement actions, and foreclosure actions.
Eaker et. al. v. City of Ellendale. Successfully represented a group of city residents in connection with claims against the City arising from the City's failure to properly maintain sewage infrastructure, which resulted in damage to residents' homes.
Cornerstone Group (various matters). Successfully represented a developer in connection with residential and commercial leasing matters.
Caldwell Griffin. Successfully assisted a client in obtaining a reduction of proposed real property special assessment relating to a City roadway improvement project.
Routinely review, draft and negotiate commercial and residential lease agreements.
Awards
The Best Lawyers in America©
Litigation – Construction, 2023-2024
Construction Law, 2024
Also experienced in
Shareholder Disputes
Year 15 LIHTC Disputes
Financial Services Litigation
Real Estate Development & Transactions
Coverage Litigation & Counseling
Energy Litigation & Appeals
Honors & Awards
The Best Lawyers in America©
Litigation – Construction, 2023-2024
Construction Law, 2024
Minnesota Super Lawyers®
2011-2023
AV Preeminent
LexisNexis Martindale-Hubbell, Peer review ratings
Associations & Memberships
American Bar Association
Federal Bar Association
Minnesota State Bar Association
Hennepin County Bar Association
Commercial Law League
NAIOP (Commercial Real Estate Development Association)
Former Member
Transfiguration Catholic Church & School
Former Trustee
Midland Hills Country Club
Former Member, Board of Directors